We are inviting undergraduate and graduate students for our Summer Research Program which will take place in summer 2023.
⠀
The intern will work together with our data scientists and researchers on our projects, and will gain valuable knowledge and skills in the field of machine learning, data science algorithms, and AI.
Requirements:
– Math skills (required): Linear Algebra, Probability and Statistics
– Programming skills (required): Python
– Machine learning skills (preferable): PyTorch/TensorFlow/Keras, Scikit-learn, Numpy, Pandas, Matplotlib
– Experience in one of these is preferable, but not mandatory: Computer Vision, NLP, Speech Recognition, Reinforcement Learning
– English language proficiency (minimum intermediate level)
Dates:
⁃ Program starts in mid-June. Dates might slightly vary
⁃ Duration = 2 months
⁃ Payment is in accordance with the level of education and skills within the limits established by the rules of NU
 To apply, please send your resume, academic transcript, cover letter describing skills, research interests, and intended period of the program to issai@nu.edu.kz by 31 March 2023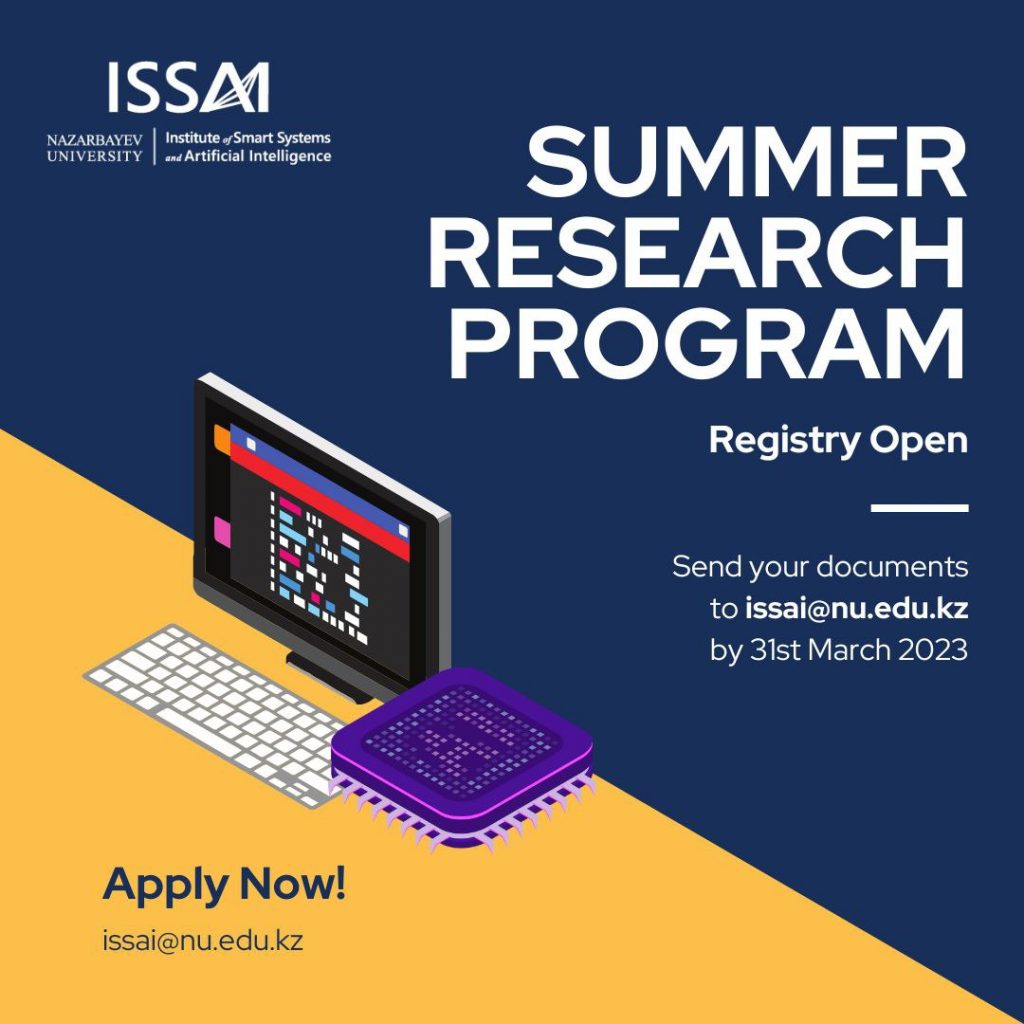 ---
This year we are also organizing a separate Summer Research Program for high school students.
Requirements:
– Math skills
– Programming skills or data science skills (preferable but not mandatory): Python
– English language proficiency (minimum intermediate level)
Dates:
⁃ Program starts in mid-June. Dates might slightly vary
⁃ Duration = 2 months
– No payment for high school students according to the rules of NU
 To apply, please send your resume, academic transcript, cover letter in English language describing skills, research interests, and intended period of the program to issai@nu.edu.kz by 15 April 2023